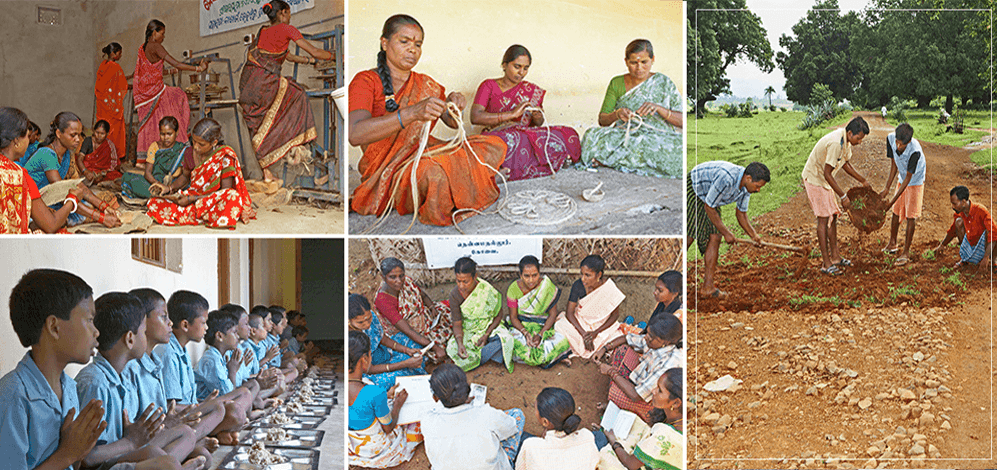 Services


Continuously sweat in the service of others without feeling any tiredness. Serve everyone with everything you have, everywhere, every time. This is work. All else is labour.
CORD - Chinmaya Organisation for Rural Development
CORD is a bond of love and understanding encouraging a process of sharing which enriches both the giver and the receiver. In this process of giving and serving, the giver grows spiritually and the receiver is blessed with the power of transformation.

 – Swami Tejomayananda (World wide Head of Chinmaya Mission)
CORD (Chinmaya Organisation for Rural Development) is the service wing of Chinmaya Mission and operates as a Trust and NGO. It has been active in the field of holistic rural development for over two decades. It facilitates integrated, participatory and sustainable rural development in villages of Odisha, Tamil Nadu, Andhra Pradesh and Himachal Pradesh through guidance, funding and monitoring.
History
With a vision to provide a platform for individuals to perform selfless service, Swami Chinmayananda started a rural healthcare and development programme in Sidhbari. "For many millennia, the women of the Himalayas have served the Rishis and munis (sages). I, too, have taken all my teachings in the Himalayas – this is an opportunity to do our bit for them," said Swami Chinmayananda when apprised of a USAID proposal for maternal and child care services in Sidhbari. The seed was sown – Chinmaya Rural Primary Health Care and Training Centre was formed on April 10, 1985. It was also evident that women in these communities would benefit from training as multipurpose health workers as well.
The first steps were an Out Patient Department (OPD) clinic in Sidhbari and community-based health services through six health sub-centres with emphasis on maternal and child health care including immunisation, family planning, domiciliary antenatal, intra-natal and postnatal care.
While implementing outreach health services in villages, it was pragmatic that the link between primary health care and the reality of village life needed a deeper intervention. In 2003, a separate Trust for developmental growth was formed – Chinmaya Organisation for Rural Development (CORD). Website: https://cordindia.in/
Mission
To facilitate integrated and sustainable development in rural India through self-empowerment processes.
Outreach
For over twenty years, CORD, a secular non-profit and the service wing of Chinmaya Mission, has been helping rural communities create programmes and adopt practices for holistic welfare; facilitating participatory, integrated and sustainable development for underprivileged communities in over 700 villages and remote areas across India.
CORD has a reach spanning over one-half million villagers in four states: Himachal Pradesh, Odisha, Tamil Nadu and Andhra Pradesh, at present.
CORD is a creation of Pujya Guruji (Swami Tejomayananda), to create an urge of creativity in the rural population, for creating comprehensive wealth and managing various aspects of their life to live independently, indigenously and respectfully with a religious spirit and scientific mind.
– Swami Kevalananda, Project Director, CORD Lathikata, Odisha
Ongoing Initiatives
Activities

Ongoing Initiatives

Chinmaya Vijaya

Recognition

International Presence

Support CORD
•    Micro-banking and Self Help groups allow villagers to access finances in times of need, without having to worry about collateral and other banking criteria.
•    Mahila mandals empower women and young girls to overcome personal and financial concerns through Income Generation Programmes and Adult Literacy.
•    Yuva and Yuvati mandals are a platform for young men and women to channelise their strengths positively.  The mandals impart trade skills, confidence in speech and address societal issues which may be often unspoken within families and communities.
•    Balwadis and Balveers are creative playgroups for children aged 2 to 6 years. With emphasis on spiritual, academic and physical education, a well-rounded growth of the child is encouraged.
•    Managing and sustaining natural resources through training people in practices of soil conservation, vegetation and organic farming, solid waste management including hygiene and health care.
•    Developmental activities like vocational training, income generation activities and computer literacy.
•    Counselling and discussions to understand and overcome social injustices like gender inequalities and domestic violence.
•    Health Awareness camps addressing common ailments, educating people about hygiene and sanitation including the benefits of practising yoga and pranayama.
•    Literacy Drives to ensure that basic education is offered to all members of society, with interventions like distribution of study materials, tuition and coaching classes, value based and cultural education, as well as career guidance workshops.
•    Income Generation by mobilising sustainable livelihood through means and skills available locally. For example, agriculture, horticulture, dairy, small shops, food products, fabrics (weaving, sewing, embroidery, and knitting), traditional arts and crafts, bamboo and non-timber forest crafts and so on.
•    Social Justice and Informal Legal Assistance, such as, alcohol abuse awareness; fighting domestic violence, gender discrimination and child abuse.
Contact a CORD
2nd Floor, Chinmaya Mission
89, Lodhi Estate 89, Lodhi Estate
New Delhi Delhi 110003
India
Contact: Ms. Mona Malkani
Quick Contact
Phone : +91-11-24616291
Email : cordheadoffice@gmail.com
Sidhbari
Kangra District Kangra District
Himachal Pradesh 176057
India
Contact: Dr.Kshama Metre
Quick Contact
Phone : +91-1892-234322
Email : cordsidhbari@gmail.com
Chinmaya Nagar Chowk
Sundergarh District Sundergarh District
Odisha 770037
India
Contact: Swami Kevalananda
Quick Contact
Phone : + 91-9437222139
Email : chinmaya_seva@rediffmail.com
At / Po : Deuladiha
Keonjhar District Keonjhar District
Odisha 758019
India
Contact: Dr.Sarojbala Rath
Quick Contact
Phone : +91-9437245546
Email : cordorissa@rediffmail.com
Sri Sarveswara Dhyana Nilayam
Thamaraipakkam Thamaraipakkam
Thiruvallur Dist, Tamil Nadu 601103
India
Contact: Mrs.Priya Thiagrajan
Quick Contact
Phone : + 91-9381062307
Email : cord_tpkm@hotmail.com
Chinmaya Vijaya Orphanage
Mangalagiri Mandal Mangalagiri Mandal
Guntur District, Andhra Pradesh 641 109
India
Contact: Dr.Sumati Mukkamala
Quick Contact
Phone : +91-8645-236777
Email : amukkam1@hurleymc.com
4/109, Boluvampatti Main Road
Coimbatore Coimbatore
Tamil Nadu 641109
India
Contact: Dr. Meera Krishna
Quick Contact
Phone : +91-422-2906164
Email : cordsiruvani@gmail.com
4545 Warwick Circle
Michigan MI 48439
USA
Quick Contact
Phone : +1-866- 580-5508
Email : contact@cordusa.org
32 10th Lane
Colombo 4 Colombo 4
Colombo Sri Lanka Colombo 5
Sri Lanka
Quick Contact
Latest Video