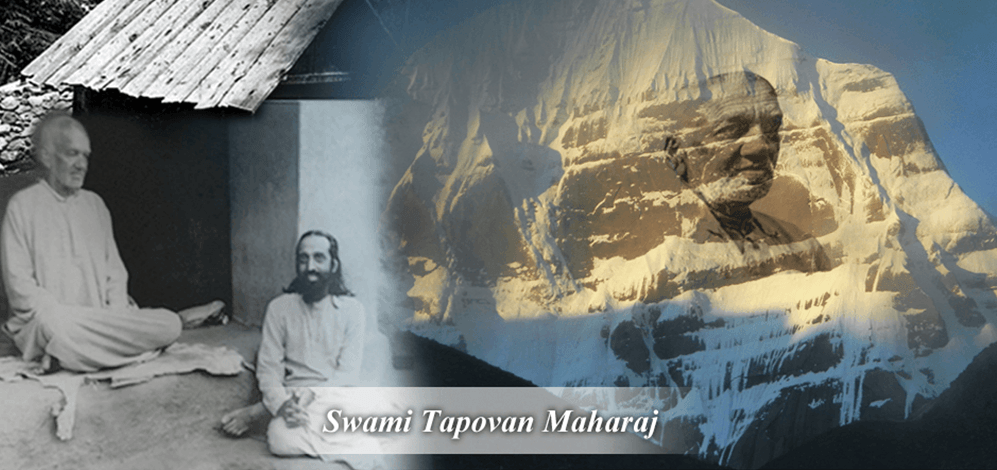 How to explain to you all, that what I saw in Him was what I saw in the Upanishads and in the Bhagavad Gita. The work of spreading the Gita and the Upanishads was to unveil Him and His glory, His vibhuti - 'Tapovan Mahima', in the hearts of all.
- Swami Chinmayananda on His Guru Swami Tapovan Maharaj
Introduction

MonkHood

Awakening

The Teacher

Works
He is history's few, God's own ascetic, a beacon of knowledge, and a Himalayan jewel — all rolled into one. Swami Tapovanam is a symbol of complete abidance in Truth, the light that never descended — philosophically, literally, and figuratively. He was that pristine glacier of Self-knowledge from whom flowed the Ganga of Vedantic wisdom through Swami Chinmayananda, the founder of Chinmaya Mission.
A saint of the highest order, Swami Tapovanam was a consummate Vedantin, strict teacher, a compassionate mentor, a poet whose every thought throbbed with ecstatic awareness, and a sage of unsurpassed wisdom and tranquillity. He is one of those rare sages who personifies the Absolute in every sense of the word — eternal and infinite — radiant and resplendent, dazzling with the effulgence of a million suns.
Swami Sivananda called him 'Himavat Vibhuti,' meaning "the glory of the Himalayas"; and in the world of sages and ascetics, he is acknowledged as one of the four great enlightened masters of Vedanta who lived in the Himalayas during the time, along with Swami Vishnudevananda, Brahmaprakasa Udasina, and Devagiri Swami.
That Truth, which Swami Tapovanam realized and indicated in all his teachings, is beyond words, as much as he himself was. Swami Chinmayananda said of his Guru, "He was a God without temple, a Veda without language."
Nature - a Window To God
Forests! Forests! Forests! Dense and all-inspiring forests! Captivating forests with different trees, plants and creepers decked like chariots with myriads of fully blossomed flowers! Even with the utmost care, the gardens in our cities and towns do not have flowers of such variety and in such abundance as seen in these divine forests, so enchanting with countless blossoms of different varieties of white and red roses etc. How can I describe the trees and creepers of the Himalayas, I who am so totally ignorant of forests? Though I knew nothing of the names and qualities, I walked, enjoying their total beauty… The mountains and forests and trees – the oceans with their playful waves – all of them are bubbles on this ocean of Bliss. Ha ha! In all things we see this Sacchidananda. In the midst of the peaceful Himalayas, as well as in the noisy cities, we see this
Paramatman
.
--Swami Tapovan Maharaj