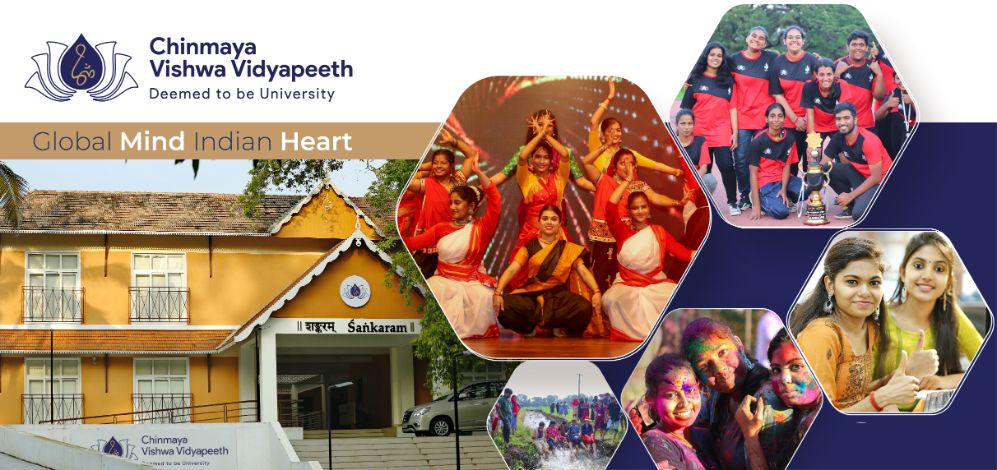 Chinmaya Vishwa Vidyapeeth

The highest prayer in this world is service. The greatest devotion is loving the people around us, And the noblest character trait is divine compassion for all living creatures …
- Swami Chinmayananda
Chinmaya Vishwa Vidyapeeth (CVV) is a deemed to be university under the 'de novo' category recognised by the University Grants Commission (UGC). The university was established in 2016 by the Chinmaya Mission, a worldwide organisation founded by Swami Chinmayananda, and is located in Ernakulam, Kerala, India. It has its headquarters at the Chinmaya International Foundation (Adi Sankara Nilayam, Ernakulam) and has been established as a torchbearer for the preservation of India's cultural heritage and knowledge traditions through higher education. The university aims to create a new generation of scholars and researchers who can contribute to the development and dissemination of knowledge with a global mind that is rooted in India's rich cultural heritage.
The Chinmaya Vishwa Vidyapeeth Functions From Two Campuses: The Chinmaya Eswar Gurukula Campus In Ernakulam, Kerala, And The Chinmaya Naada Bindu Gurukula Campus In Kolwan, Near Pune, Maharashtra.
For more details click here - CVV-Prospectus
Chinmaya Eswar Gurukula

Chinmaya Naada Bindu Gurukula

Contact
Chinmaya Eswar Gurukula for Indic Wisdom- Welcome to the maternal home of Adi Shankaracharya, the great spiritual luminary, and the torchbearer of the renaissance of Vedanta couched in reason and logic. It is fitting that this is the Headquarters of the Chinmaya Vishwavidyapeeth. Set in an extensive compound of 10 acres in Kerala's lush, green country-side, amidst temple shrines and lily ponds, the CEG campus offers a serene ambience that attracts aspirants who come in search of peace and solitude from the world over.